Interview with Juan Cano: Accelerating Sustainable Impact in Colombia
During the last year, Juan Andrés Cano and the team at PeaceStartup have consolidated a new structure and business model centered around impact entrepreneurship. They are moving from being "simply" an NGO to solidifying their role as an impact accelerator. Their team is growing, and the number of projects they manage has also increased in just over a year. We sat down for a chat with Juan Andrés to discuss entrepreneurship and the impact of PeaceStartup in Colombia.
Accelerating Impact in Colombia
Creating connections between different market actors has always been one of PeaceStartup's core purposes. However, Juan Andrés and his team realized that this wasn't enough, as many small businesses did not have the capacity to maintain those commercial relationships in the long term. For this reason, they decided to re-think and re-structure PeaceStartup's business strategy and go through an acceleration process with Bancolombia, one of the largest financial institutions in Latin America.
Now, their main workstream has become accelerating entrepreneurial impact in the country. Through its accelerator program, PeaceStartup is currently supporting 254 entrepreneurial activities, 30% of which are led by women or women associations and families. Most of these initiatives are focused on agriculture and are located in 56 municipalities, 60% of which are prioritized in the country's peace agreement.
As an accelerator, they have established three core lines of work: capacity-building with a long-term vision that takes as a starting point the existing market needs; investments in the form of grants, fixed assets, machinery, microcredits using crypto coins, and stocks, and finally; project management support. The main objective is listening to the market and ensuring that the products and services are commercially viable. Juan estimates that PeaceStartup's accelerator program has impacted 3,500 families directly and 12,000 indirectly. 
PeaceStartUp's Venture Studio
The second innovation in PeaceStartup's activities is their venture studio. The main objective of this initiative is to find market solutions to the existing peace and development challenges in Colombia. As an NGO, they didn't have enough "financial muscle" to close the existing market bottlenecks. Now, they have re-structured to act as a business group with an impact foundation matrix. 
Juan Andrés remarks that the peace process and agreements led to an almost immediate increase in investments in Colombia. However, almost six years later, some of these investments have proven unsustainable, as they invested in products and services that were not viable in the market or didn't have a commercial outlet. To address these gaps, they have initiated four projects, mainly within the agricultural sector.
The first one is "Ormiga Comercializadora". After a thorough process of stakeholder mapping and consultation, they identified two main supply chain challenges for small farmers and entrepreneurs in the agri-business: last-mile logistics and maintaining the quality of the products until their delivery. Through this project, PeaceStartup becomes a supply chain actor making sure that small farmers can sell their products for a fair price, and also ensuring payment on delivery and last-mile liquidity.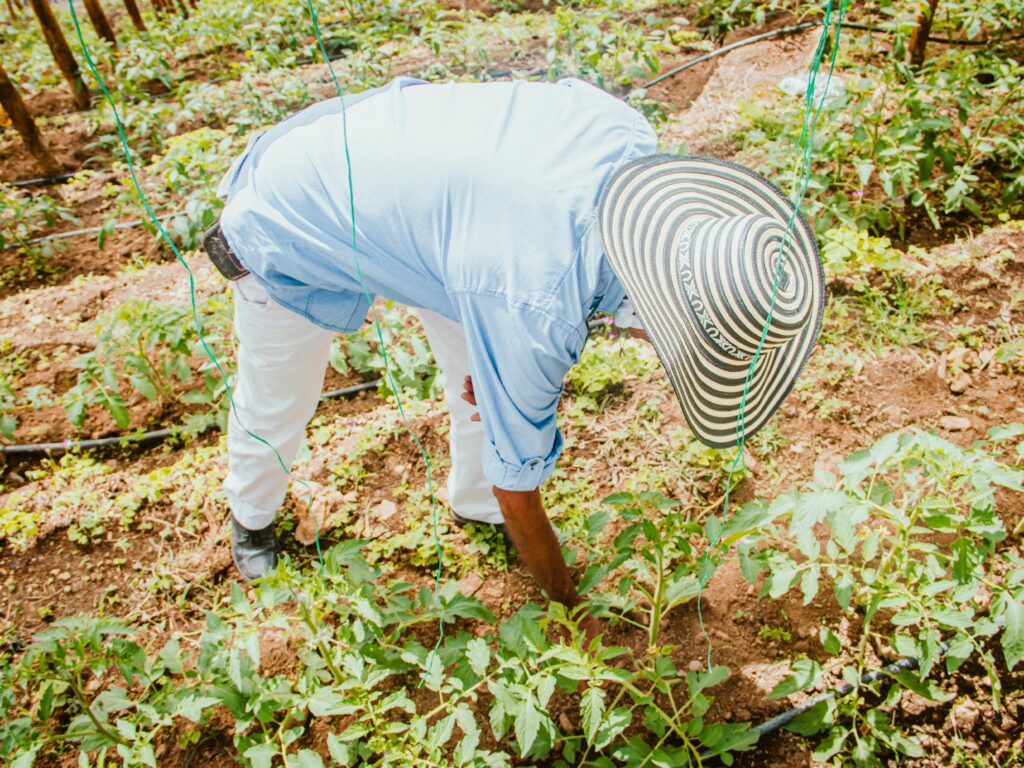 They also act as intermediaries, emphasizing the need for fair trade conditions. Juan Andrés gives the example of one of their most recent collaborations with the food company Crepes and Waffles. The company was facing challenges with the distribution of their products as they wanted to buy from small local farmers and entrepreneurs, but they had a very complex value chain – each of their products requires very specific freezing conditions. For this reason, they needed an actor in the middle of the distribution chain that could deal with both challenges. PeaceStartup stepped in to become that intermediary buying from the small farmers, ensuring fair trade conditions while acting as a middle distributor. This also allowed them to ensure the traceability of the products and transparency of the supply chain, as well as the liquidity in the end-mile.
The second project is "Ormiga Financiera", still in the pilot phase. Its objective is to implement a closed-loop cryptocurrency market in cooperation with farmers and agricultural cooperatives. The project was set to pilot in Antioquia but was paused due to covid. However, Juan is hoping they can move ahead soon, perhaps in a different municipality. 
The last agricultural project is "Fondo Semilla" ("Seed Fund") through which they support entrepreneurial initiatives that do not necessarily fit in the investment thesis from impact investors from the Global North. The main difference with other seed investment initiatives is that PeaceStartup bases its decisions on actual market needs that they have previously mapped through research. At the moment, they are trying to identify new investment vehicles for specialty products such as Colombian coffee and cocoa. They are working to consolidate this investment thesis approach, but the partners, investment capital, and brand are already in place.
Last but not least, they are collaborating with some international cooperation agencies with the objective of bringing energy to off-grid communities by installing micro energy networks. However, the project was not sustainable because they had installed the grids in areas where the population did not have a need for those energy levels. As a result, the networks became abandoned and once they malfunctioned, the population did not have the resources or knowledge to fix them. 
PeaceStartup is now collaborating with private and public partners to create an integral project using blended finance, build commerce and create logistics networks. The first step was to map the areas that are most in need of energy access before installing the energy networks. The next step is to involve business partners 1) that sets and operates these energy grids in the long run, ensuring that they are repaired whenever needed, 2) commerce the products, 3) finance the local business. 
Bringing Business and Human Rights into the Picture
Juan Andrés tells us as also about PeaceStartup's think-tank. After many years operating in Colombia, they have accumulated a great deal of knowledge both in the practice and in the theory about the needs of the territories. Acting local, but always thinking global, they are supporting the private sector and advising them on the best ways and practices to operate in different areas of the country, always considering the specific contextual needs and characteristics of each place.
They view this as a long-term investment, as they can bring business and human rights as well as ESG considerations into the private sector activities, but always from a practical perspective. Their goal is to reflect on these aspects before the investments are completed, instead of retroactively working to fix them once the investment is done.
Juan Andrés received the Oslo Business for Peace Award in 2015 for his work in ethics, sustainability, and human rights within the private sector. You can read more about him here.